Knowing Your Measurements Is
The Beginning To A Great Fitting Suit
You can achieve a confident look by measuring at home or visiting our store.
With four fit options, we have the perfect style to match your personal taste. Our provided measurements serve as a guide to help you select the best size, while our Expert Stylists and Master Tailors in-store will ensure a precise fit.
If off-the-rack options don't meet your needs, consider going custom. We offer custom apparel that guarantees a perfect fit, tailored specifically to your measurements. Whether you're big and tall or small, we have the ideal fit for you.
Discover our range of personalized clothing options that cater to your unique preferences. Need more guidance? Visit us! Our Expert Stylists are ready to assist you in finding a smart and personalized look at a price that suits your budget. Let us guide you through your purchase journey.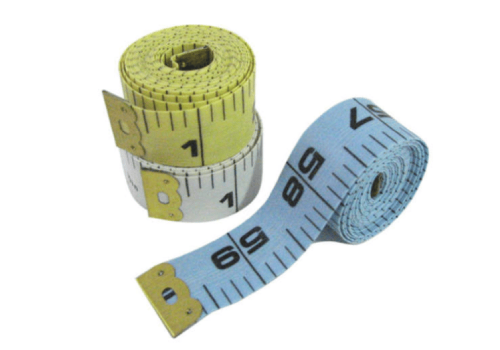 Before You Begin Measuring
To get accurate measurements, you will need a soft measuring tape and a partner to help. Remove your outerwear and/or suit jacket when having your measurements taken.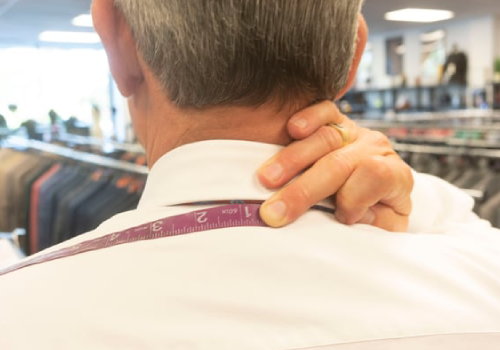 FIT and STYLE MAKES a PERFECT FIT that LOOKS LIKE it's MADE FOR YOU.
Of course, you can always stop in at Stych Inc., and one of our Expert Stylists will be happy to take your measurements. IMPORTANT: The overarm and true waist measurements are a guideline for the range of sizes that fit your frame. As a general rule, your chest size will be your jacket size.
How To Measure Yourself At Home Before You Choose Or Buy
At the Stych Suit Superstore, we cater to all sizes – big, tall, small, and everything in between. Our approach to Big & Tall fashion focuses on tastefulness, avoiding baggy or tent-like styles. Similarly, our Regular & Smaller sizes are designed to complement and flow along the contours of your physique. We offer high-quality clothing that fits men of all sizes.
For big or portly individuals, our jackets are generously cut through the chest, shoulders, and waist. Our pants provide a relaxed fit through the seat and thigh. If you're tall, we accommodate your longer arms with sleeve lengths up to 39″, extra-long jackets, and extra-long ties. We also offer tapered or slim-fit options to give you the desired in-shape look. Our shoe collection extends up to size 13.
When it comes to style tips for Big & Tall men, classic tones like black, gray, or navy are recommended. Adding color through accent items rather than main wardrobe pieces creates a balanced look. It's best to avoid large-scale patterns like plaids or window panes. Proper fit is essential, as well-fitted garments can be slimming and flattering. Clothes that are too tight/small can make you appear in need of losing a few pounds, while oversized clothes can make you look even larger. Simple or sophisticated patterns add variety and flair to your wardrobe, while stripes bring an authoritative presence to many occasions.
How To Calculate Inseam Measurements
To measure your inseam, you can use a pair of well-fitting pants you already own. Fold the pants in half vertically and place them on a flat surface. Start at the crotch seam and stretch the tape measure to the bottom of the hem. It's important to choose pants that closely match the fit you desire for your suit. For instance, if you prefer a slimmer-fit suit, use slimmer-fitting pants when measuring.
For accurate body measurement, stand upright while your partner measures from the crotch seam to where you want the hem to fall. To ensure the most precise inseam measurement, wear the shoes you plan to pair with the pants. We suggest that the pants graze the forefoot or top of your shoe, but feel free to adjust the length according to your preference for a shorter or longer hem.
How To Measure For
A Suit, Shirt, and Pants!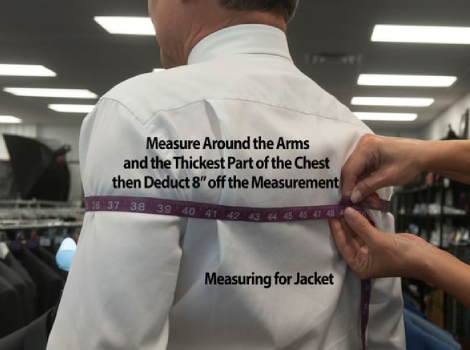 Overarm Measurement
Most Important Measurement for the Best Jacket Fit.
Stand with your arms at your side. Have your partner wrap the tape measure around your arms and chest, making sure the tape is level across your shoulder blades in the back and the widest part of your chest in the front. Make sure you aren't holding your breath or sucking in. Instead, breathe regularly and keep your body relaxed. Subtract 8″ from your overarm measurement to get your jacket size. For example, if your overarm measures 48 and your chest measures 40″, your coat size will be 40. We suggest trying on different sizes and fits so you can see what looks and feels best.​​​​​​​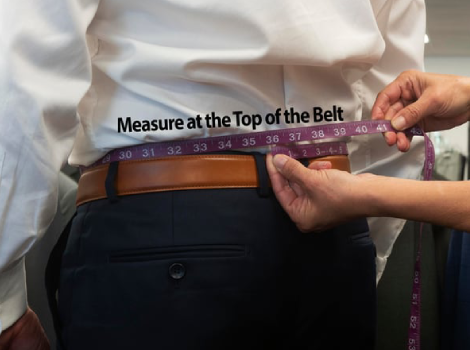 Waist Measurement
Your Size is Not Your Jean Size.
Wrap the tape measure around your waist, just above the belt. Make sure the tape is level across the front, back and sides. The tape measure should be snug, but not tight. For a proper fit, dress slacks are worn above the hipbone on the natural waist, about the height of the navel.
How To
Measure for A Dress Shirt!
At Stych Inc., we specialize in creating real custom suits that are tailored to perfection. We also provide the ideal fit for off-the-rack designer suits, catering to individuals of all sizes, including big, tall, and everything in between. With our precise sizing, you can experience the look and feel of a custom suit, as if it were exclusively crafted for you.
Take Advantage Of Our Image Consulting Service, FREE with purchase.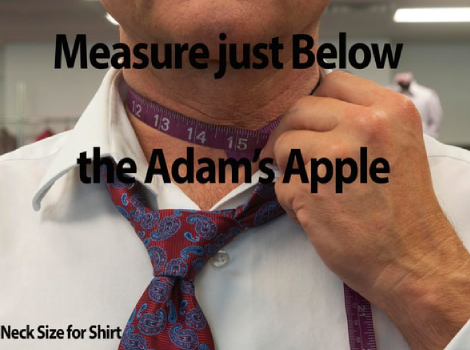 Measuring Your Neck
The Correct Size = Comfort.
When taking neck measurements, it's important to make sure that your garment will fit comfortably and isn't too tight against the neck. This is also applicable for buying men's dress shirts in which a collar or neck measurement is needed.
Place the measuring tape around the neck at the height where the collar would normally rest. This will be just below your Adam's apple. Stand relaxed. Do not crane your neck out or squeeze your chin down. The tape should be resting lightly on the skin, not squeezing it.
Note the measurement and add 1/2 to 3/4 inches to get your actual neck size for a Dress Shirt. This will ensure a fitted but breathable neckline, where you can swallow and not feel your blood pressure.
Neck sizes for shirts typically begin at 14.5 and increase by 1/2 inch until size 19. After that they are in one to two inch increments depending on the manufacturer.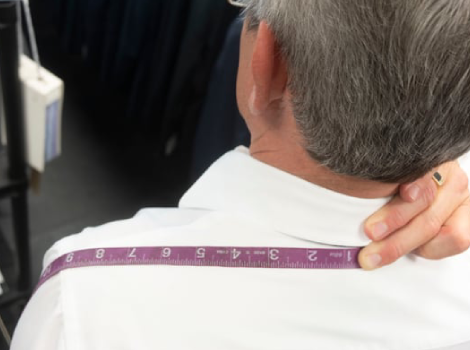 Measuring the Arm-Length
Step #1 in Getting the Correct Sleeve Length.
To measure the correct sleeve length, begin by placing the tape at the base or nape of the neck. You can usually find it by the cervical bump at the base of the neck, right where the collar
attaches to the body of the shirt. While holding the tape in place, extend it to the point of the shoulder. This location is easily found where the shirt seam forms a "T" intersection.
Many times this measurement is referred to as the half yoke, or by doubling it you get the width of your shoulders.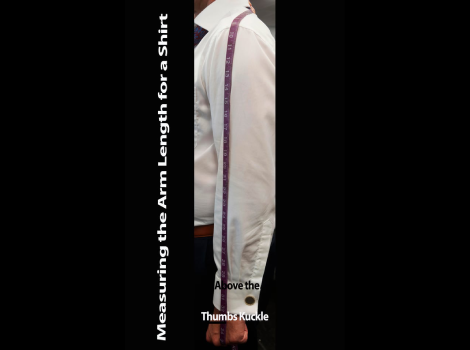 Measuring the Arm-Length
Step #2 in Getting the Correct Sleeve Length.
To Finish measuring the sleeve length, allow the tape to drop over the point of the shoulder and along the outside of the arm. With one hand holding the tape at the point of the shoulder, use the other hand to extend the tape to the base or knuckle of the thumb.
Take note of the number you get, and the following reference chart below will help you get the correct sleeve length.
Sometimes shirt sleeves are made to exact lengths starting at 32, 33, 34, 35, 36, 37 etc. Generally today sleeves are made in lengths referred to as 32/33, 34/35, 36/37 etc.
Take the measurement you got, round up to a whole number, and plug it into the longest grouping that was listed above.
Now you have your shirt size…
15.5 (neck) * (by) 34/35 (sleeve).